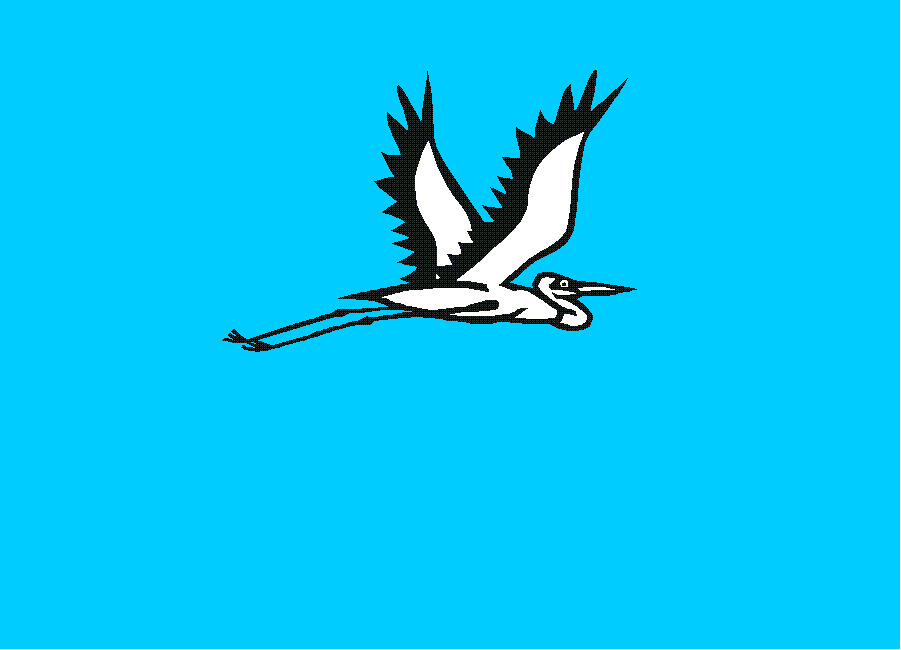 Animation by Tannis Ewing
<! --bgsound src="EssenceOfIpanema.mp3" -->
---

Welcome to GreatBlue.ca!
Here's hoping you find many things of interest.


---

Table of Contents
Alan at the synthesizer consoles...

The music files have been included as a "proof of processes" items, and are not polished to recording standard, but I hope you enjoy them anyway. (To capture them, right click and use "save as...")

The performances use a pair of Kurzweil K2000 synthesizers played as a real-time instrument, live, without using the synth record/overdub capabilities at all.
---

Chuckles
A notorious cat burglar successfully targeted the Louvre in Paris, but was caught only a few blocks away when his escape van stalled. Seems he had to Dali because he didn't have de Monet to buy deGas to make de van Gogh. (from a web surfing expedition)

The local US sheriff was looking for a deputy, so Gomer, who was not exactly the sharpest nail in the bucket, went in to try out for the job. "Okay", the sheriff drawled, "Gomer, what is 1 and 1?". "11" he replied. The sheriff thought to himself, "That's not what I meant, but he's right." "What two days of the week start with the letter 'T'?" "Today and tomorrow." The sheriff was again surprised that Gomer supplied a correct answer that he had never thought of himself. "Now Gomer, listen carefully: Who killed Abraham Lincoln?" Gomer looked a little surprised himself, then thought really hard for a minute and finally admitted, "I don't know." "Well, why don't you go home and work on that one for awhile?" So, Gomer wandered over to the barbershop where his pals were waiting to hear the results of the interview. Gomer was exultant. "It went great! First day on the job and I'm already working on a murder case!" (Calgary's Good Morning News, May 22nd, 2003)
---

Didja Know?
The radii of the planetary orbits about the sun, and the moon orbits about the planets in the solar system, form a geometric progression called the Titius series. The common ratio is very nearly the square root of 3 for all the systems, but the nature of the progression has yet to be predicted theoretically despite 220 years of effort.
It appears eyes have evolved independently at least four times.
---

Transforms
"The idea that there is one people in possession of the truth, one answer to the world's ills or one solution to humanity's needs has done untold harm throughout history." Kofi Annan, former UN Secretary General, Nobel Peace Prize acceptance speech, 2001.
Any belief system that considers itself infallible has made at least one mistake.
"When one tugs at a single thing in nature, he finds it attached to the rest of the world." John Muir, 1890-1914, naturalist, writer and founder of the Sierra Club
Anyone who takes an honest and broad look at the 20th Century can't help being impressed at how humbling an experience it has been for mankind.
Human "rights" are understood, in principle, to be universal, i.e. they apply to each and every human being without priority, favour, or prejudice. It follows, therefore, that one gives up any right one denies to others.
The Bible actually states, on the first page of Genesis, that God divided night from day three days before He created the sun. One must wonder why this isn't seen to cast light on the credibility of the source instead of on our ability to understand it.
Most people think progress consists of knowing how to do more things. Precisely the opposite is actually true. Progress consists of gaining the ability to do more things without knowing how.
Does true prophecy imply determinism? If so, how can one resolve the conflict between asserting we have free will and maintaining that true prophecy is more reliable than chance?
A Grook from Piet Hein...
(Runaway Runes, Short Grooks 1, by Piet Hein, 1968 p 16)

Men, said the Devil
are good to their brothers:
they don't want to mend
their own ways but each others'.
---

---